Welcome to SimplyProduce.com We are proud to launch our bran new site. Please take a moment to look around.
Friday, June 5, 2009



Check back soon for updates on new summer crops coming from California.
Friday, June 5, 2009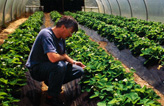 Simply Produce…More Than Just A Name…
It's also our philosophy. Your produce buying experience should be just that…as simple as possible, so let us do the work for you. Thanks to our high level of market knowledge and product availability you're guaranteed the best quality in fruits and vegetables and the lowest prices possible.
Featured Products





Specializing in CA Grown Produce…
As a trusted produce broker in California you can expect our products offered from area growers are the finest in the industry. Whether you're a distributor or a chain store come see how Simply Produce can make your buying experience effortless.